Fabrication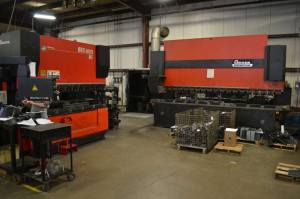 Our sister company, Fabricating Concepts, provides laser cutting, forming and powder-coating.
Fabricating Concepts' state-of-the-art equipment can process a variety of materials to meet your exact specifications.
Capabilities/Equipment/Fabrication
Amada Press Brake with 240 ton capacity and a 14 foot bed
Press Brake With 8 Axis Back-Gauging
14′ Max Bend Length
240 Ton
8 Axis Gauging
CNC Controller
European Style Tooling For Box Bending As Well As Conventional Bending
Laser Cut and Formed Parts
6-Axis Robotic Welding System. Fanuc 100i 6-axis welding robot is CNC controlled, programmable, with a 10 foot diameter capability. The system is set up for production welding with precision tooling and Torch Mate Adjust allowing the most consistently repeatable welding available today.