Drive Caster: Automation At The Wheel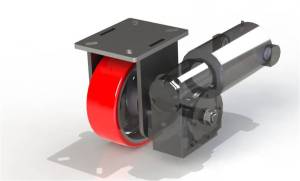 Drive Casters Keep Manufacturing Plants Moving.
At Caster Concepts, sometimes our best inspiration comes from the caster design challenges our existing customers bring to us. Such input has led to innovations like CasterShoX, which conquers the problems posed by uneven floors and cart noise; and Twergo, which can tame the heaviest cart loads.
But sometimes, even all of that innovation isn't quite enough to move heavy loads in carts across the factory floor — applications where loads on manual carts top 4,000 pounds and require two people to move, for example.
Our research team at Caster Concepts has answered the challenge with a product that could be a game-changer in both manual and automated cart applications – drive casters.
This new type of heavy duty industrial caster wheel features an onboard, low-profile, battery operated motor that can generate enough power to propel the heaviest loads at 2 to 5 miles per hour – akin to walking speeds in most factories. Able to be retrofitted onto existing platforms, these innovative drive casters can also be equipped with active steering, which can amplify the input of the manual user to provide for easy guidance.
Additionally, these drive casters can be fitted on automated delivery systems, including automated guided vehicles – giving the system an extra push when, again, load considerations are at issue.